Deshidratados del Mediterráneo, a company located in the mountains of Alicante, Relleu, was born after the celebration of Reflection Days that civil society organized at the Relleu City Council on July 18, 2019; with the support of the Department of Agriculture, Alicante Provincial Council, Relleu City Council, Alicante University, Chamber of Commerce, Marina Baja Consortium and ASAJA, among other entities.
In the Conference the following topics were discussed: rural depopulation, use of water and architectural jewels.
After these first days, the research and development of the conclusions for these problems was carried out in order to avoid rural depopulation and promote local products and give them added value.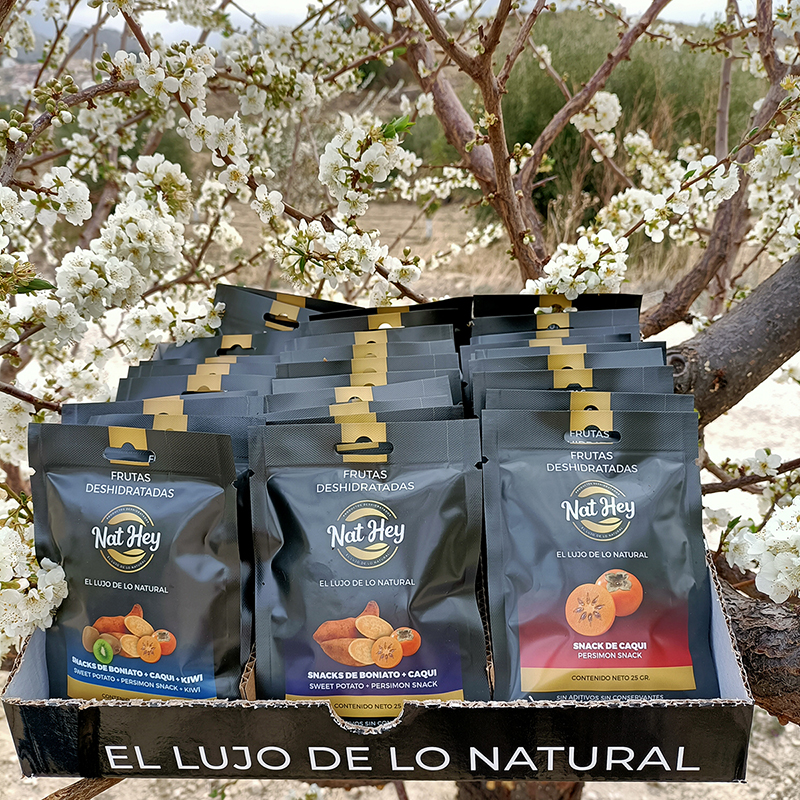 In May 2020 Deshidratados del Mediterráneo was born with the aim of giving added value to our products. Dehydrating and packaging our 100% natural CAECV certified fruits and vegetables and sending to all parts of Europe.
In February 2021 Deshidratados del Mediterráneo, under Nathey brand, begins the marketing and distribution the products.
We currently have four ranges of products;
The range of cocktails, which comes from the Mediterranean citrus industry, for which this project began.
The dried fruits, grown on the slopes of the Mediterranean mountains.
The range of natural enhancers have been created to give instant energy supplies, since they are 100% natural products that only have the sugar of the food.
Finally, our range of snacks that is born from an ecological and respectful production with the environment, preserving one hundred percent of the benefits provided by the fruits of the Mediterranean climate.
Deshidratados del Mediterráneo has a research and development section that does not cease in the production of new products and mainly in the recovery of native varieties of fruit and vegetables.